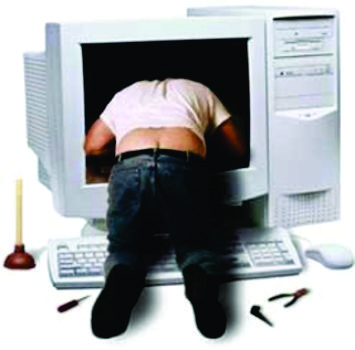 Advanced Group
The group meets on Wednesdays between 9:00am and 11:00am. In the Advanced group about 15 to 20 participants listen to the wisdom of Bill Maxwell.
Topics covered:
Microsoft Windows Operating System.
Apple MAC Operating System.
Linux Operating System Zorin.
The Internet in General.
Question and Answer (Q&A) Period
Three computers are set up with these different Operating Systems.
Beginners Group
The group meets on Tuesdays between 9:00am and 11:00am. The Beginners group are looked after by Doug Elliott and members are assisted on a one to one basis in learning computer basics.
What's in it for you?
The answer is, "Much more than you may think."
These days computers are cheap. For seniors a computer can be a key to open up a whole new and exciting range of experiences enabling you greater enjoyment and fulfilment in your life.
Mastering a computer to suit your needs is dead easy. A computer is just another tool to be used. It is not mysterious and you do not have to be a nerd.
To succeed all that you need is the willingness to have a go and accept that making mistakes is a part of personal growth and the fun of learning. Never making a mistake is incredibly simple for anyone who never tries anything new or innovative.
Because there is no pressure and no timeframe learning is easy. As with gaining any new skill if you try and practice you will succeed.. It's all but impossible to press a wrong key. This seems to be a new person's greatest fear.
There are many benefits to be gained from making the effort. Here are a few.
The satisfaction that comes from mastering a new skill
Easier access to a range of Government, community and business services
Email is now the primary form of communication.
Easy communication with family and friends
You can make free video calls to anywhere on the planet.
There is an infinite variety of media, music and videos available at the touch of a button. If you like games there are more than you are likely to play.
You can easily access unbiased news and analysis to inform yourself and stay in touch with current events..
If you want to be informed about literally anything the answers are on the internet.
Researching travel options is very popular amongst senior users.
Access to the world outside even if you are confined by poor health or other circumstances
Reduces social isolation and keeps your brain active.
Building a social network
There are a multitude of social networking sites enabling you to be in touch with others with similar interests.
Bill Maxwell, Team Leader of the Advanced Computer group has written and maintains what is considered an outstanding website for beginners and experienced users alike. It is easy to follow and a fantastic source of information for new users, especially Seniors.
Website: Bills Computer Potpourri: http://www.billscomputerpot.com/
If you consider that one of your mates would benefit from learning to use a computer introduce him to Doug Elliott or Warren O'Grady in the beginners computer group in the studio building or contact Doug on 0401 466 575.
Before you ask any questions, please watch this very helpfull video showing how to trouble-shoot computer problems: